Friday, March 31, 2006
Monday, March 20, 2006
A man is being held by German police after walking into a petrol station with his wife's severed head in a bag.
The 40-year-old man, of Turkish origin, was covered in blood when he approached the night counter at about 0400 GMT and asked the attendant to call the police.
Hamburg police said officers found the head in a bag on a grass verge and arrested the man, who was in a confused state and admitted killing his wife. The body of the woman, aged 39, was found in their nearby flat. Hamburg police spokeswoman Ulrike Sweden said the man seemed "a bit crazy" and may have to see a doctor before charges can be brought.
She said police found a large knife in the flat in Eissendorf, in the south of the city. "It seems he used the knife to kill his wife and cut off the head," she told the BBC News website. The couple's two children - girls aged 13 and six - were found in the flat and taken into police care. "It seems they didn't see the body or what was going on," the spokeswoman said. A motive for the attack is still unclear. Both the man and his wife were of Turkish origin, with German citizenship.
| Country | Gold | Silver | Bronze |
| --- | --- | --- | --- |
| Australia | 41 | 37 | 32 |
| England | 17 | 20 | 15 |
| India | 12 | 8 | 3 |
| Scotland | 8 | 5 | 6 |
| Canada | 7 | 16 | 13 |
Tuesday, March 14, 2006
A woman thought she was in heaven when beer instead of water flowed from the taps in her apartment in west Norway. "I turned on the tap to clean some knives and forks and beer came out," Haldis Gundersen told Reuters from her home in Kristiansund, west Norway. "We thought we were in heaven. "Beer in Norway is among the most expensive in the world with a 0.4 liter (0.7 pint) costing about 50 crowns ($7.48) in a bar.(your telling me ! i paid nearly a tenner for one when i went skiing years ago - about 10 years ago !)
Gundersen said she tried the beer but that it tasted a bit odd and was not fizzy. It turned out that a worker in a bar two floors below had mixed up the pipes on Saturday evening, wrongly connecting a new barrel to a water pipe leading to Gundersen's flat. The bar got water in its beer taps. "If it happens again I'm going to order Baileys (coffee liqueur)," she said.
Monday, March 06, 2006
This is brilliant - has anyone seen this on telly yet ? let me know as im gobsmacked as i love the simpsons with all my heart (who doesnt!)

Friday, March 03, 2006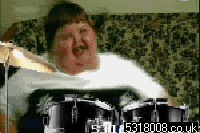 What's 18 inches tall and stands at the end of a small childs bed?
Gary Glitters boots . . . .
Sorry about that. But he's a complete fucking c**t and needs to be shot in the face at close range - actually - i reckon drummer boy should be locked in his cell until he self combusts.
Thursday, March 02, 2006
Jim and Edna were both patients in a mental hospital. One day while they were walking past the hospital swimming pool, Jim suddenly jumped into the deep end. He sank to the bottom of the pool and stayed there. Edna promptly jumped in to save him. She swam to the bottom and pulled Jim out. When the director of Nursing became aware of Edna's heroic act, she considered her to be mentally stable. When she went to tell Edna the news she said, "Edna, I have good news and bad news.

The good news is you're being discharged; since you were able to rationally respond to a crisis by jumping in and saving the life of another patient, I have concluded that your act displays sound mindedness. The bad news is that Jim, the patient you saved, hung himself in his bathroom with the belt to his robe right after you saved
him. I am sorry, but he's dead."

Edna replied, "He didn't hang himself, I put him there to dry.
How soon can I go home?"