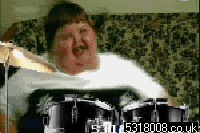 What's 18 inches tall and stands at the end of a small childs bed?
Gary Glitters boots . . . .
Sorry about that. But he's a complete fucking c**t and needs to be shot in the face at close range - actually - i reckon drummer boy should be locked in his cell until he self combusts.