Apart from the fact that my foods getting eaten, the washing up aint getting done, and theres still a rubbish bag sitting outiside the sloth's room (for 4 days now) im tickedyboo - Mopped the front room wooden floor last night and behold, now your feet dont stick and you can see that the floors a light brown - brilliant - also i threw away an empty whisky and barcadi bottle, empty comfort bottle and an empty box of washing up tablets, 2 dead onions and orange and lots of empty packets of everything that CB seems to leave in his wake. Bored of it. like moaning at this is boring me - cant even be assed to moan about it to him.
And did you see the contestants in
CBB2006
- O MY GOD - Dennis Rodman hahhaha, Michael Barrymore (YAY), Jodie Marsh (woohooo), Rula Lenska (boooo), Preston from the Ordinary Boys (who), Maggot from GLC (crap) Pete Burns (what a weirdo), Faria the affair ridden wotsit who nearly made Sven resign (booo) and Traci Bingham (mmmm) tasty my thoughts are reserved on her for the short term, she is an absolute beauty! George Gallaway who isnt my fave MP in the world but iu dont have anything actually against him - and he seems like he could be good fun! - O and some normal bird called Chantelle who has to make all the others beleive that shes a Celeb by Sunday or get chucked out - Must see TV short term just to see that shit.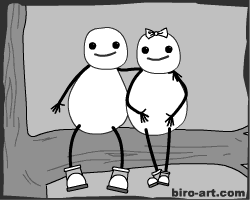 So off to the weekend and my first available boozing night tonight - shall i get garmed up and hit Clapham or go straight from work to somewhere glum. DM gets paid so he might be out for once pffft . . Jasons up for booze as well - and so's the Wills - Feeling lucky this weekend i am - we shall see. Cheers to Biroart for the gif - he has a series of these and they are wicked - click on his image to see the site.