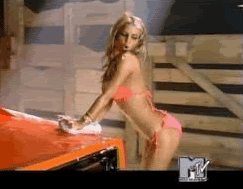 My my my - thanks to my South African buddy
Aquilla Online
for un-earthing Jessica Simpson winding her behind for us all to gawp at - In fact there are 3 mouseovers to play with and much like Aquilla i now have a bad sprained wrist - great stuff !
On a further
Dukes of Hazzard
point - What a great show that was - i used to love it as a kid and as i remember was on at about 5pm on a Saturday afternoon - or was it ? was it just before "Sunday Monday
Happy Days
- Tuesday Wednesday
Happy Days
duh duh etc etc " loved that as well - Daisy Duke was horny but who was that girly out of
Happy Days
? She was just as cute i think - o was is the testosorone in my hairy ballsack making those noises in my head? hmmmm - I see that on google this remake of the 70's 80's show has a great big
review score
of 1.7 out of 5 - thats piss poor in my book !